For nearly two years, John Cummings has gone through a discovery process to find the location of one of the most iconic images from Gettysburg, and the Civil war—Alexander Gardner's "The Harvest of Death" and its companion, "Field where General Reynolds Fell."
I still remember these images from my textbook in grade school.
When I met up with John last Saturday (July 6), I was ignorant of how hotly contested his conclusions were or that this topic was such a thing, but as Craig Swain ominously warned me, "Everything at Gettysburg is a thing."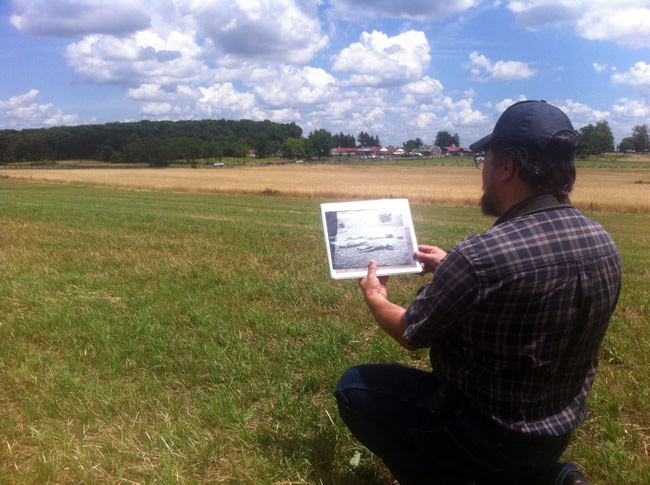 John has a slew of posts on his blog about tracking down the location, initially based on a theory of Scott Hartwig. John has documented his discovery process extensively, as he presented various theses, sometimes shooting them down later. If you want to follow his open-book approach, search for "harvest of death" on his website, but the following posts give you enough information on his evidence and conclusions.
However, like any battlefield experience, it is best for people visit the spot in person. Seeing how the fields roll while holding the photo against the landscape gives you a view that you cannot recreate through the Internet.
As for the refutations, I do not have much that is current to provide in the way of links. Garry Adelman and Tim Smith provided a series of posts on the sadly inactive Gettysburg Daily disputing various locations for the photos, including some of John's earlier theories. However, their work was always one-step behind John who continued refining his work. For example, their last post (May 10, 2012) refutes one of John's revised theories, months after the fact. Other problems include the fact they never stand in the exact spot John has concluded, all while pointing to small photographs and maps, never giving the viewer sufficient evidence to conclude one way or the other. I am not saying their concerns are invalid; I am saying they have not presented them well.
It would be beneficial to see is a video of John along with Garry and/or Tim standing in John's spot. From there, they could walk through the evidence and discuss. This sort of live debate would not only be fascinating, but it would draw plenty of attention to the battlefield.
Regardless of your position, or if you are new to this discussion, consider for a moment if John Cummings is right. At 1:00 PM July 6, 2013, it was the 150th anniversary of one of the most iconic photos taken during the battle and war, and John Cummings was the only man there to visit the site where it happened.